Chiang Rai is a city in Northern Thailand. It's a neighboring city to Chiang Mai. Chiang Rai is a popular tourist destination but still less explored than Chiang Mai. It took me by surprise! It quickly became one of my favorite cities in Thailand. It's laid back and relaxed (unlike bustling Bangkok) and mostly mountainous.  In my opinion it has some of the most unique and photogenic temples in Thailand.
I arrived in Chiang Rai via Nok Airways from Bangkok. This flight was quick: a little over an hour to You Mae Fah Luang International Airport, which is the main airport in Chiang Rai. I also got to fly on the cutest pink plane with an adorable face!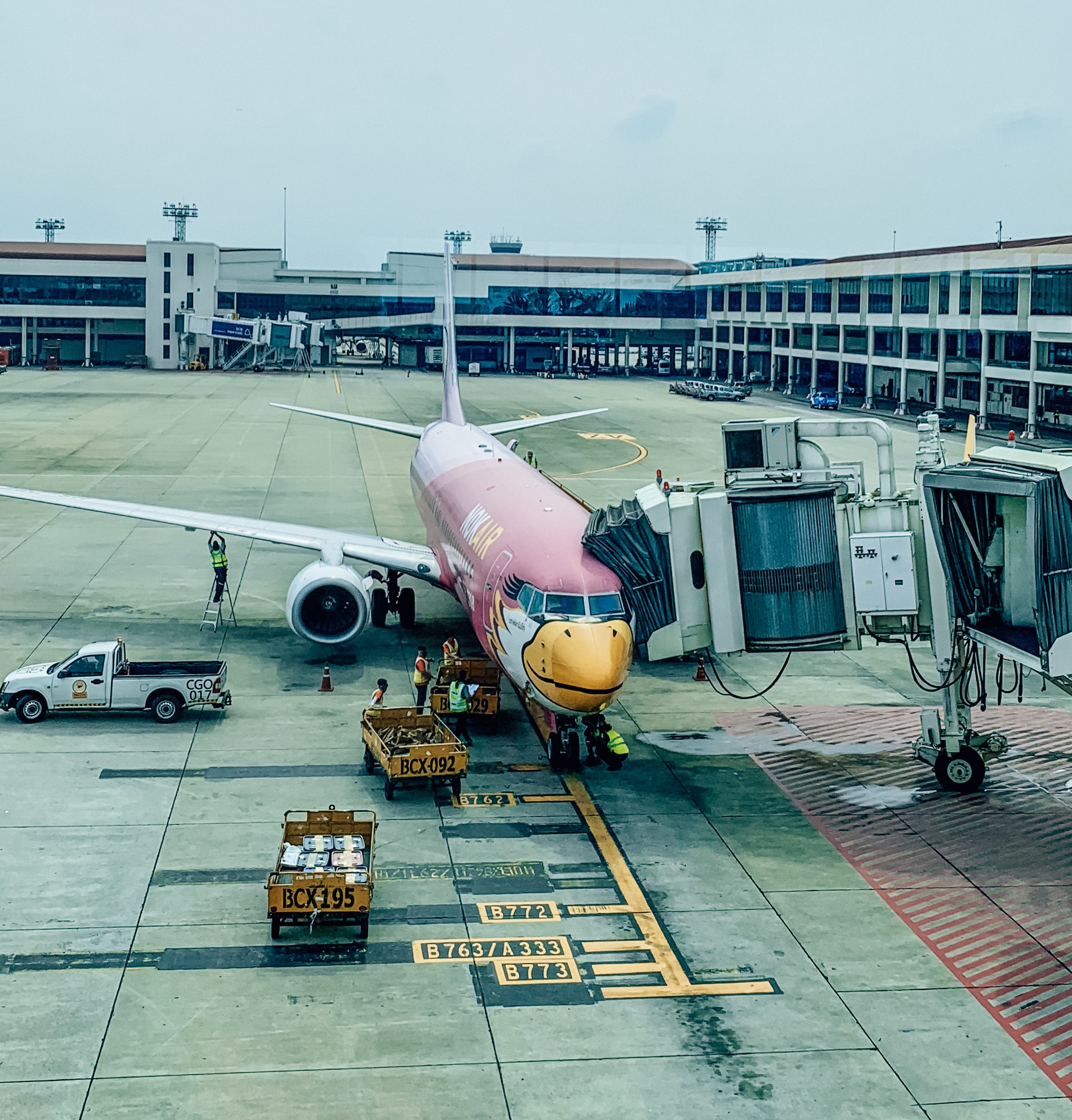 Nok Airlines
You can squeeze everything on this list into your trip if you stay in Chiang Rai for about two days, however, three days would be less rushed (I stayed for 3). The cheapest way to get around Chiang Rai it to rent a motorbike. If it's your first time and don't know your way around like it was for myself… it might be best make friends with a taxi who can drive you around all day. This option is actually not as expensive as you would think!
WHERE TO STAY
Bambuh Boutique Homestay is heavenly and one of the best hotels in Chiang Rai in my opinion. I booked easily through Airbnb. This lovely retreat is tucked in the country side where you can just relax and soak in all the luscious green vegetation. The hosts are amazing and cooked the most delicious breakfast and dinner for us upon request! It's also great to get recommendations from a local whenever possible. The hosts at Bambuh were able to call us cabs, book us tours, etc.  The hosts here go above and beyond and made us feel at home. They provided bikes so I was able to ride to the Black House Museum in only 10 min! By car the Blue Temple is a 20 min drive, Way Huay Pla Kang 15 min, White temple 40 min and Chiang Rai Night Bazaar is 20 min away.

Bambuh Boutique Homestay
1. WAT RONG KHUN, THE WHITE TEMPLE
Wat Rong Khun is one of Thailand's most special and most famous temples. To foreigners it's known as the White Temple. You can definitely see where that name comes from! The temple has been open to visitors since 1997. Artist Chalermchai Kositpipat, a Chiang Rai native, completely rebuilt the temple to be the White Temple as you can see it now. The temple is incredibly beautiful and unique. Every detail of the temple has meaning. The bridge is the Gate of Heaven while the hands in front of the bridge reach up from hell. Get there early if you want photos without anyone else in them, otherwise it gets crowded real fast!
The temple is pretty big so you will want to spend some time here. There are also many different areas to wander off to. I absolutely love the gold portion of the temple which is hidden towards the back.
2. WAT RONG KHUN, THE GOLD TEMPLE
After walking through the White Temple do not be in a rush to leave. A lot of people don't know about the Golden temple that is hidden behind the famous White Temple which is the Golden Pagoda for the Hindu God Ganesh. It was dreamy! My favorite part of the temple was that it was a lot less crowded. I was able to enjoy myself a little more and walk through the museum they had inside.
3. WAT RONG SEUR TEN, THE BLUE TEMPLE
The area where this temple is located was once the natural habitat of tigers. That's why the name of the temple translates as 'House of the Dancing Tiger'. The blue and golden colors of the temple make for great colorful pictures. Unlike the White Temple, you're allowed to take pictures inside the Blue Temple as well.
As of now the Blue Temple is less popular than the White Temple, which is why it remains FREE. There were plenty of quiet areas were I was able to snap photos without other people in them. If you get hungry or need refreshments, there are plenty of vendors selling food and drinks right outside the temple. I highly recommend trying the coconut ice cream with sticky rice; it makes for the perfect afternoon snack!

Coconut Ice Cream w/ Sticky Rice
4. BAAN DAM MUSEUM, BLACK HOUSE
Baan Dam Museum is often referred to as the Black Temple, or the Black House Museum.  In Thai, 'baan' means home or house and 'dam' means black. Despite its temple like appearance, it is not in any way a temple. But it is oddly beautiful and surreal!
Artist Thawan Duchanee has created what you see today over a period of 36 years. Now just a museum, once was his home and art studio. This museum has a collection of around 40 buildings of varying shapes, sizes, and unique content. Entry costs 80 baht. You will also find various souvenir shops, coffee shops and food stalls. There are bathrooms, which are also interestingly designed. Check them out!
5. WAT HAUS PLA KANG
Many tourists make the mistake of calling this statue Chiang Rai's Big White Buddha! The statue is actually not a Buddha but Guanyin, the Goddess of Mercy. I remember spotting this temple from a distance in a cab ride to my hotel in Chiang Rai and I knew from the second I spotted it that I needed to go here!  It is one of the newer temples in Thailand and becoming increasingly famous among photographers. The dragons on the staircase that lead to the statue and the views of the mountainous countryside make you feel like you are in an episode of Game of Thrones!
It was a gorgeous day in Chaing Rai until I arrived to Wat Huay Pla Kang and the heavens opened up on me. As my car pulled up I was greeted with torrential downpours and booming thunder. But that wasn't going to stop me! I grabbed the taxi guys umbrella and ran up the stairs to the very top, got completely drenched and twirled around for a quick photo! The best part about it was having the entire place to myself. I have to admit it was actually quite peaceful to see this statue in the rain. It was most definitely a memorable experience.
6. SINGA PARK
You would think there would be beer at Singha Park. For those of you who do not know this, Singha is a popular beer in Southeast Asia. But prepare yourself to stick with just tea, as this Chiang Rai attraction doesn't actually have any Singha beer! The Singha statue makes for a cool photo and has beautiful mountain views.
7. LOCAL COFFEE SHOP
I had the best cup of coffee while in Chiang Rai when our local driver pulled over to local coffee shop Akka Mino. The grounds that the shop is built on are beautiful. You can hang out on swings outside or sit in a Thai hut while enjoying your coffee and soaking in the beautiful views. We even brought some coffee home for souvenirs.
8. KHUN KORN WATERFALL
Khun Korn Waterfall is one of the best waterfalls in Chiang Rai. Measuring 70 meters tall, this waterfall is one of the biggest in northern Thailand, hidden deep inside the Khun Korn Forest Park. The waterfall is open from 8am to 5pm & it's FREE! A destination you must visit! It was recommended to me by a local. I had some free time and quickly added this to the itinerary and I couldn't have been happier to take the day and do this! I had a driver take me here for the day and wait while we did the hike (otherwise it is impossible to find a ride home since there was no cell service there!).
Hiking in the jungle to the Khun Korn Waterfall is very peaceful. While there are a few visitors here, the trail does not feel crowded. It's not super touristy which is what I liked about this destination the most. You will probably see just a couple of people along the way who will mostly likely be locals.
The trail winds through a tall bamboo jungle alongside a small stream flowing from the waterfall itself. As you hike to the waterfall pay attention to all the wildlife around you. I saw many beautiful butterflies, birds, and lizards. As you get closer you will hear sound of crashing water and as you approach it you will get hit by the spray of the waterfall. It felt so refreshing!! It felt like taking a cold shower and was very necessary after the hike.
9. CHIANG RAI NIGHT BAZAAR
The Night Bazaar is a great place to enjoy the local fare and a must visit Chiang Rai attraction. Food, food & more food! There are plenty of different stalls to enjoy local delicacies there. I enjoyed some Pad Thai, noodles and Mango Sticky Rice that I would take home for a midnight snack. There is entertainment on two different stages. I loved listening to Thai music and watching dancers and different performances while eating.
There are plenty of souvenir shops selling handmade items such jewelry, trinkets and tees. Those famous elephant pants you see around Thailand can also be found here. I loved shopping here and found it to be a great place for souvenirs, for myself and others. Also, don't forget that the first price they give you is never the final price. Be sure to bargain!
10. CLOCK TOWER
As you look at this clock tower you might recognize similar design elements to the White Temple. That's because the same designer and architect built both of these structures! Located right outside the town of Chiang Rai, This tower is definitely worth a visit! Make sure to show up at 7pm, 8pm, or 9pm on the hour. That's when the light show happens. I have to admit I really enjoyed watching this!
11. CAT CAFÉ
I absolutely loved Cat N A Cup Café. You can enjoy your coffee while playing with some very cute and fluffy cats. Not really an authentic Thai experience, but definitely something that I have only seen in Asia.
12. THAI MASSAGES
You will find several places offering inexpensive Thai massages in Chiang Rai's city center. Some places you will find hour long massages for as cheap as 150 baht! Treat yourself  🙂
LIKE IT? PIN IT!



Let me know in the comments below if you are planning a trip to Chiang Rai and tag me on Instagram @blondevoyagenyc so I can see your adventures.